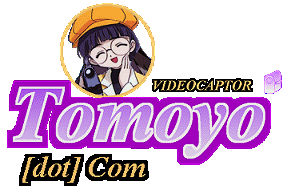 The Site
Konnichiwa! Here's the place where I'll put little things I joined for this site that I don't really have room on the main page (I hope it's all right). I also might later put my profile on here. I'll have tiny explainations for each thing. I also kind of put these in chronological (meaning arranged in the time they appeared) order. All right, I'll keep this short, so here they are!
Recently (in mid April of 2002), I noticed that the things on here were getting a bit long (as in page length). I didn't want to get rid of the order that I had put them in, so I put links to separate sections, while keeping this page, of all the things that are right here, but only certain ones, like Awards, Networks, etc. So, there are a couple of links here that will pop up into a new window if you click on them that will only show you the site things in that category.



Support freedom


You don't really have to click on this; I thought that this ribbon would be a nice tribute to the people who perished in the September 11th hijacking. *looks sorrowful for a little bit*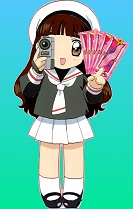 I made this myself from a big calendar picture that I did not scan. (I edited it and put in the Sakura Cards from the Kādo Mistress adoption center.) Click on it to see it in full size.

[ Kādo Mistress: The Loop, The Dash, The Voice, The Song, The Wave ]
This is a little fun thing that I thought would be all right to put here. You know, I wonder if I should do a little short story on how I got these cards. Therefore, I might be adding or giving back cards sometimes. *grin*

A network I joined. It's not for any particular reason, but I thought I'd put the network button here. *grin* It's a network for another site I work for, Dreamz Portal.
[Notice: Now shut down]
Otanjoubi omedetou, Tomoyo Daidouji!
This is Tomoyo Daidouji's birthday page for this year. I just couldn't take it down, so I moved it here. If you came by this page later on and didn't catch these, check out Tomoyo Daidouji's birthday pictures with me here! *grin* (Oh, and the phrase means 'Happy Birthday, Tomoyo Daidouji!' in Japanese. *grin*)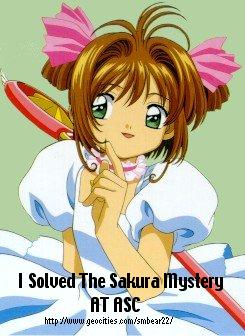 This is an award I got for finding out what was wrong with Sakura on the site, A Secret Capture. *grin*


This is an award I got for passing the quiz at Kawaii Cardcaptor Sakura. *grin* This is Josie's other site (the site that she's working on now is on the Links page, which is Josie's Chants N Stuff).


This is a little button Bubble made for me way back when. I found it after a long while and I thought I had to put it somewhere. So, it's here. *grin*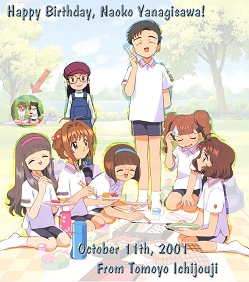 This is Naoko's birthday card for this year. Can you see me in it? *grin* (Click on it for full size.) I added myself in there and edited this image and put in the text, but I didn't scan the original image that this came from. *grin*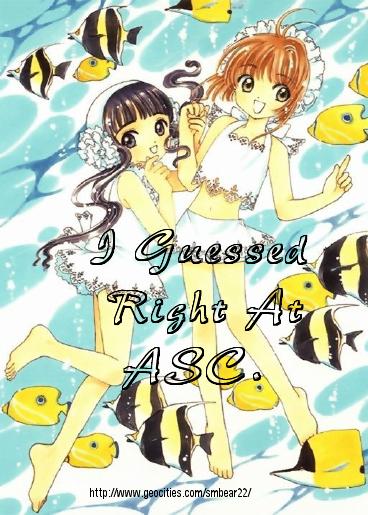 This is an award I got for guessing right on a little page on there with a sort of question. It's actually pretty simple; I was able to know the answer without randomly guessing. This isn't something big, but I thought I'd still put it here. *grin*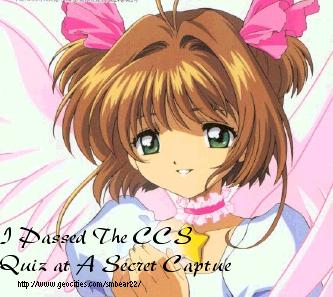 This is an award I got for getting a good score on the quiz at A Secret Capture. It was pretty easy to get, but it was nice enough to put here. *grin*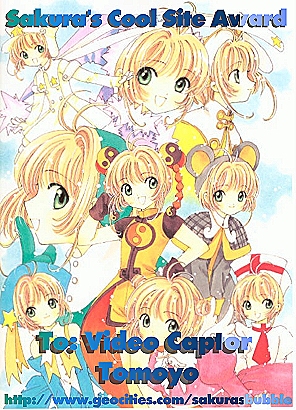 Click here to see this award in big size.
This is an award that I asked for from Sakura's Bubble. I liked the image, and I asked about it, and she gave it to me. Isn't that so nice? You can also see it really big with that little link under the small award there. (I resized it and enhanced the edges to do the smaller one.) *grin*

This is an award that I asked for from Sakura's Bubble. I asked to see if my site deserved this award, and I got it. I'm proud of this one because it really refers to my videos that I made myself. Tomoyo's AV Award: I like it a lot! Arigotou, SLK Cardcaptor! *grin*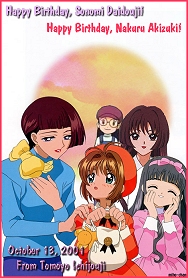 This is Nakuru's and Sonomi's birthday card. Since their birthdays are on the same day, they have a birthday card for both of them. This image apparently came from someone named "miho-chan", but I don't know who that is. It was a little text on the corner that's still there, and then the image of Nakuru I put in there which I also didn't create/scan and am not sure where it came from. I did the editing, the text, the borders, etc. *grin*
02/08/02 Note: I realized that their birthdays are not October 13th, but October 23rd! Sorry for the error! *sweatdrop*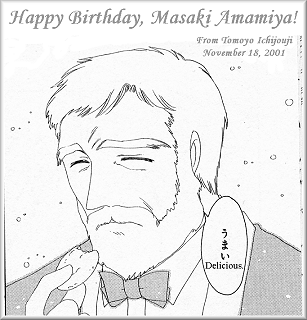 This is Masaki Amamiya's birthday card. He's Sakura's grandfather on her mother's side. I scanned the original image myself from the manga, so don't use this without asking my permission first (it has my name on it anyhow). I did the text and editing as well, so the only thing I really didn't do was to draw the picture of him. *grin*


Another network I joined sometime in late mid-April. I did a staff photo for them and two graphics, and they asked me if I wanted to be in their network or affiliate. I don't do affiliation, but I thought why not for the network. So, here is the link. *grin* (That also means that the banner over there, and the button here I'm using, are ones that I've made. *grin*)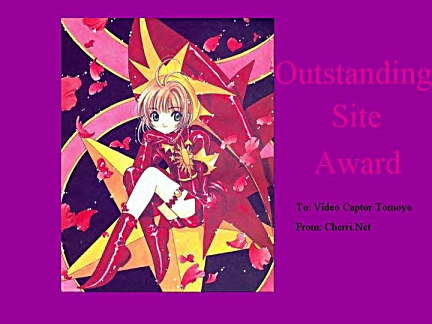 Click here for the award in larger size.
I got this award from Kumiko, like the network one above. She gave it to me as a surprise after I did the photos for her. I didn't apply for anything, but she just gave it to me! (Hence, surprise award.) Isn't that really sweet? *grin* Thanks a whole bunch!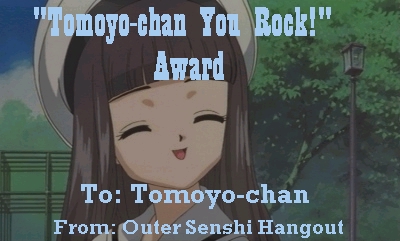 Sailorryokowashu gave this to me, also by surprise, after getting her photo take. It's a thanks award, but strangely, I must thank her for the award as well! *grins and bows with gratitude* What's even more nice of her is that she made it a personal one (it has my name on it, see?) and the text on it is very legible and clear. *grin* Arigotou gozaimasu!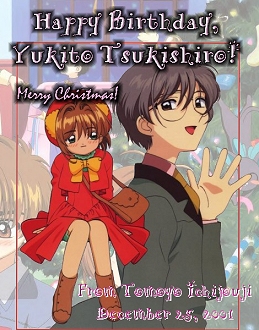 (Click for larger size)
This is Yukito Tsukishiro's birthday card, along with Christmas, since his birthday's on the same day! *grin* I don't know where I got either of the images used (or I forgot...sorry) but I did not scan them or anything.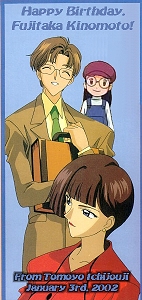 (Click for larger size)
This is Sakura's father's birthday card! Can you see me in the back? (I didn't scan the image or anything, and I can't remember where I got it from.)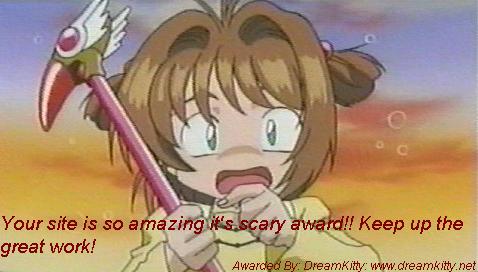 This is an award I got from Angel of Dreamkitty.net. She just gave it to me when she e-mailed me, I didn't apply for anything! Isn't that so nice? *grin* The image for the award is pretty interesting, too.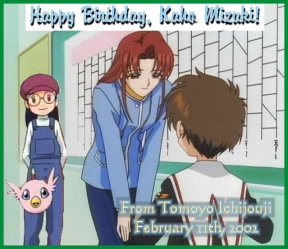 (Click for larger size)
This is Kaho Mizuki's birthday card! I'm over there in the back to the left. Kaho is apparently telling Shaoran something, and in the back there's a branch line chart. *grin* I didn't scan any of the images in here, but I put me in there and put the text in and extended the top, etc.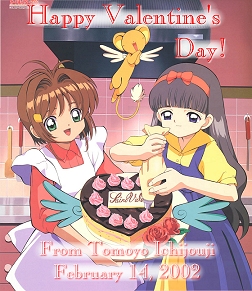 (Click for larger size)
This is this year's Valentine's Day card! I really just put the text on it; I didn't do much and I was in a rush. I didn't scan the image, either. But at least I did a little celebration of the day! *grin*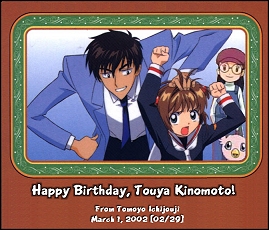 (Click for larger size)
This is Touya Kinomoto's birthday card! Even though his birthday is on Leap Year Day, and therefore only comes every four years, I thought he still deserved a card. *grin* I didn't scan the picture of Sakura & Touya or me, but I edited it so that the extra text on it was gone, the extra space for the birthday greeting, and putting in me, of course. *grin*

(Click for larger size)
This is Snow Bunny's birthday card (Snow Bunny is a friend over the net I know), and she's the one in spotlight along with some other friends (and me) that know each other. I didn't scan any of those images, but I edited Yukito's hair and added the edited colored bow, added Tomoyo's glasses and smile, edited Rika's clothes to make a skirt, edited Sakura's clothes to make the stripes blue instead of red, and Sakura's schoolhat is replaced with the party hat. *grin* I drew in the hats myself, and I edited it to make the lighting seem like a spotlight. And added the text, obviously. *grin*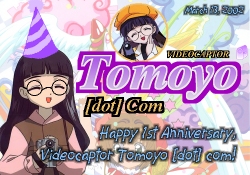 (Click for larger size)
This is the anniversary image of VideocaptorTomoyo.com. *grin* I didn't create the party image in the background, and the original image of Tomoyo in the foreground was scanned by Kari of Tomoyo-chan.com


This is a little thank-you gift avatar from Tigress of Ember Dayz. Thanks!

This is an award from Barangay Sakura that I reached Level 10 on their affiliate system. Thanks for this nifty certificate!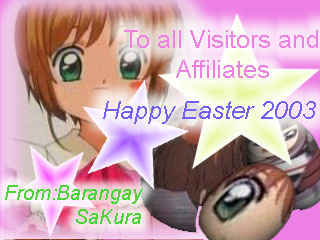 Also from Barangay Sakura is this freebie award for Easter.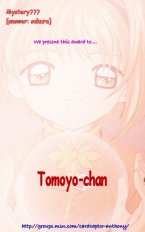 (Click for larger image)
Here is an award from Cardcaptor Anthony for guessing right in the Mystery contest on the site. The webmaster worked hard to get it to me, and I really appreciated that. *grin*
All right, that's all that's here for now.